Reading Time:
8
minutes
India is one of the largest producers & Exporters of Onions catering to the needs of Local & global market demands. Onions from India are having great demand globally due to its unique pungent smell & Taste. Exports are always a game of Demand and supply, in India we export as well as import according to our market demands, below I have attached a small click to understand the scope of onions Exports & imports in India.

How to start Onion Exports from India?
On a very fine early Morning I got a call from a Start-up, asking me a very specific query, "How can I start Onion exports from India". I liked the part of being very clear before you end up making a decision to start. The beauty of Starting an onions exports is you don't need to be a farmer to start exporting onions from India, you can still buy the produce from Farmers, Farmer-producer companies and start exporting onions.
Why to Export onions?
And, the answer is, we produce more than the requirement in our country. India is the 2nd largest producer of onions in the world, 1st being china. When the Supply increases in the market the prices roll down & the farmer will be hit of not getting a minimal rate of his produce, we export onions to balance Local & Global market demand.
Why Should you start onions exports from India?
Low investment. (The only commodity which you can fill the container with the lowest investment)
Decent margins. (It's a fluctuating market globally, So, yes it's just like winning a lottery sometimes)
Under the category of Vegetables, this is the best commodity to start & Learn Real skills.
Fastest Moving product.
Huge scope in the Asian, Gulf Countries.
Demand throughout the year.
Supply throughout the year without season barrier.
It's a Volume Business, A consistent trade can be achieved.
What are the types of onions which are exported from india?
We have a lot of names to these onions; in different states we have named it differently as per their language & conveniences. These are following types of onions exported.
Fresh Red onions (From 25 mm+ to 65mm+ Sizes)
Pink onions.
White Onions
Golden Onions
Sambhar onions.
Dehydrated onions. (Of course, a Value-added product)
Onion Paste.
In Health sector – Onion Oil.
Out of the above the most & major of the onions which is been exported from India is the Fresh red onions, we export it as per the country's requirements & specifications.
Step 0: What are the Registrations required to start Onion exports from India?
Before you start exporting, we need to enable us to start the trade legally. Registrations has become so easy in this digital times & you can form the company in less than a week to move ahead to export onions.
The registrations required are:
GST Certificate
I.E Code
APEDA
FSSAI
This above registration is just required to kick – start your onions exports company from India.
Step 1: What is the scope & opportunities in onion exports?
As we all know, India is the 2nd largest producer and exporter of Onions. Some of the countries in the world like Gulf countries – Dubai, Qatar, Bahrain, Kuwait & island countries like – Maldives, Srilanka they don't produce or have less production, as per their country's requirement they tend to import it to fulfil their requirements. Our Indian onions are well preferred & acknowledged then any other onions due to its unique aroma, taste. Due to this monopoly we are one of the largest exporters as well. You can think of Kick – starting Fresh onions as it is or you can also move ahead think of value-added products as well.
SCOPE:
If we Focus just in Asia & Gulf Countries you can see most of those Wholesale markets, Supermarkets, Hypermarkets in those Countries have Indian onions. This itself is a social proof to know what is the demand of our Indian onions in that country, Of course these are imported from india.
Opportunities :
Onions Business has a wide opportunity to trade with, you can consider to trade with Global and local to balance your trade and cash flows. Some of the opportunities are, you can export: Fresh onions, Dehydrated onions, Onions Paste, Onion Oil (Healthcare industry).
Some of the countries which import onions from india are :
Step 2: How to Generate Buyers for onion exports?
This is one of the Most Important & this is the step where the actual money is. Most of the start-ups fail to generate the business because they don't approach the customers where they are. Let's say for e.g. I am put up in Bangalore and I want to sell my goods in Delhi, in order to sell my stuff in Delhi I need to identify where my target audience is in Delhi and start approaching them, convincing them to keep rolling the ball until the leads get converted into business. Since we are in the Digital era now, you can use tons of tools in social media to track, know the audience, extract their information, start connecting. Of course, the one on one meeting cannot be replaced by anything, as its one of the best Practices to crack the deals and generate Business on a short span of time. In this case, your actual importers would be Wholesalers, Hypermarkets, Supermarkets, Restaurant owners, E-Commerce Companies (Into Onions), Bulk importers, Start-up importers in that country. Approach them & keep the conversation rolling.
Step 3: How to procure onions to Export?
This is the most important step in Onions exports. All produces what is been produced in Indian market cannot be exported from India due to factors of quality constraints, in export we focus on quality majorly. One of the major state in India which produces Red onions is Maharashtra Followed by Karnataka, Andhra Pradesh, Gujarat, Haryana, Rajasthan. As per the Size & colour of the onions we try to procure it & export. Procurement starts with choosing the right market as per the country which you export. For e.g. For srilanka, Malaysia, Vietnam, Philippines we export Red onions of size 45 mm + whereas for Gulf countries like dubai, Qatar, Kuwait, oman , barhain we export 55+ Size Red onions.
Procurement has 3 Stages:
Market analysis
Quality control
Supply chain management.
Market Analysis: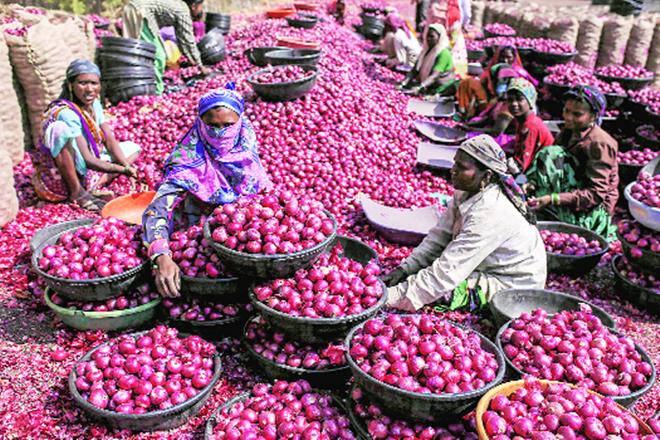 One of the major markets to procure onions is Nashik in Maharashtra which is one of the Asia's largest market to procure. In this Business of procurement don't blindly trust & believe anyone unless they know you personally.
Nashik ( Maharashtra ) – Vani , Pimpalgoan , lasalgoan , umrana etc This is Worlds Best & Accepted Quality in the international. But why ? This are Oval shaped , Red in Color , Good taste , and can stay for a Longer time ( If anyone wants to store it or stock it) .
Bellary ( Karnataka ) – Comparatively this are Pink onions has a Good market in Malaysia . If Quality Onions Found can be exported .
Gujarat – White Onions are exported to European Countries like Netherlands , Republic of Czech etc.
Rajasthan – This are typically for both local and Export i can say not all Produce can be exported, as it is light red in color.
Quality Control:
I define Quality in this trade is directly proportional to the specifications of the buyer's requirement, Be honest & you will be saved. The specifications like Size, Moisture, colour , packing should be looked into seriously as per your buyer's request.
When you start onions exports please look into the following checklist:
Onions should have atleast three layers (Patti), More the layers, safe you are.
Skinned out, shoudnt be procured.
Half Damaged Onions.
No black spots (Some insect or microbes has damaged)
100% Complete Dry Material.
Should avoid multiple times of Unloading / loading – Effects the quality.
Check the size, Colour is also important.
Start procuring as per the Buyers specifications only. You cannot procure from all farmers & traders, because in exports we require bulk quantity and a better quality when compared to local market. The only difference between the procurement of onions in local and global is: quality, uniform size, Customized packing, Sorted onions.
Supply chain management
In exports of this product, we need to be extra cautious of planning the procurement as this is a Perishable commodity, due to time lapse, quality . The supply chain planning is a very important to execute orders, when you fail to plan you fail to execute the orders, it's all about checking relevant quantity available to procure at one shot. In this stage, we need to access the quantity, price & quality all these aspects should go hand on hand in order to work on the procurement aspects.
Step 4: Which are the countries Exporting Onions?
I can proudly say that we don't have strong opposition on this product, unlike other products. We are very strong on this on the taste, aroma. Other countries that produce onions are China, Egypt, Pakistan even they export and it is just the game of Demand and supply.
Step 5: Documents required to start Onions exports
In order to export onions from India, from the customs point of view you need to give the following documents: 1. Invoice 2. Packing list 3. Certificate origin 4. APEDA certificate 5. Health certificate (If required) 6. SGS Certificate (if required)
Step 6: How to ship Onions from to India to other country?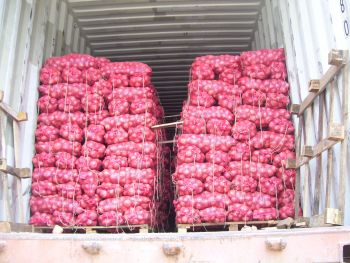 Logistics & shipping are the other end of the work which a exporter has to plan in order to process the orders with PUNCTUALITY. You can't supplying the goods without a strong plans, if you aren't able to process the orders within the stipulated time, its equivalent to recurring a loss for you and buyer. The logistics of onions are to be done only by the shipping company who have previously handled onions consignment. There are two parts over here when comes to shipping & logistics: 1. Customs clearance. 2. Shipping . Both are handled by the different divisions in the shipping companies. In customs clearance, CHA (Customs House Agent) takes the hand in Clearing your goods as per the customs norms, In shipping, the vessels or liners comes into the picture to ship your goods to the destination. In this step, Don't ever try to negotiate the time frame, Be quick & deliver your goods to port in order to get your process done before the CUT – OFF Period, never handle the shipments under pressure, it will cost your Life. Plan it wisely before you take up the order and start executing withing time frame. Otherwise your Shipping company woudnt be able to ship in the prescribed schedule as they lack experience . For Eg. If your ship is Sailing on sunday the cut off would be on Friday , Friday Morning the Goods should be given to your Shipping company ( If he is asking the goods 3 or more days before the sailing day, he is a Fishy Shipping company ).Get the Quotation & container booking , as the chances are there due to the demand the prices also fluctuates .
Facts about Onions Exports :
It is a perishable goods , So it should be handled with care.
What should a Exporter take into consideration ?
Procurement ( VERY VERY Important ) – You cant load containers of onions sitting right back from your sofa & transferring the funds. You have to be on the ground .
Transportation – Extreme care has to be taken in Monsoon & winter seasons.
International Shipping – Make sure you get the right CHA & Shipping company to handle this shipment with care.
A Good sum of Money is Achieved if you see the market and then send it. ( Blindly sending containers every week doesn't work and you will be bankrupted very soon )
This is Fluctuating Commodity Globally, watch for the rates very keenly.
CONCLUSION
I hope this article helps you to understand how to onions exports from India, Please leave your thoughts in the comment section.